Stokab owns and is responsible for the world's largest open urban grid in Stockholm. With the City of Stockholm as our owner, our mission is to build, maintain and lease fibre on equal terms to operators, property owners and other companies.
It helps create competition, diversity and the prerequisites for good IT development in Stockholm.
Our customers are companies in all industries, such as internet operators and data centres, banks and property owners. More than 90 percent of the multi-dwelling properties and most of the commercial property in Stockholm is connected to our operator-neutral fibre.
We are Stockholm's fibre network supplier
Through our fibre network, we provide the digital infrastructure that the public and private sector in Stockholm needs. It is a passive, black fibre network, which means that we have not ourselves connected it to any active devices and therefore, Stokab does not transmit any traffic or signals in the network.
The Stokab model
For us, and the City of Stockholm, the definition of fibre infrastructure is any and all terrestrial infrastructure. It is an infrastructure that is available to everyone, just like the infrastructure of roads, which may be used by motorists, cyclists and pedestrians alike.
Our task is to build, lease and maintain a robust black fibre network for the Stockholm region. All stakeholders in the market should be able to lease fibre from us on equal terms, as needed.
Stokab offers a passive infrastructure through wholesale sales of fibre connections to companies, government authorities and others in the public sector. Our customers activate service in the fibre network themselves by connecting their communication devices, which gives them full control over the digital services. With this type of solution, they never need to lease fibre from anyone who is a competitor in the market, since Stokab's business concept is to only lease out the actual fibre cables.

With this type of solution, individual stakeholders do not, therefore, need to dig up the city streets in order to install their own fibre cable, since that is our responsibility. The market can instead focus on designing its own active level and filling it with digital services.
We call it the Stokab model.
There are few, if any other companies in Europe, that have this structure. Leasing only passive fibre infrastructrure is actually often referred to as the Stokab model.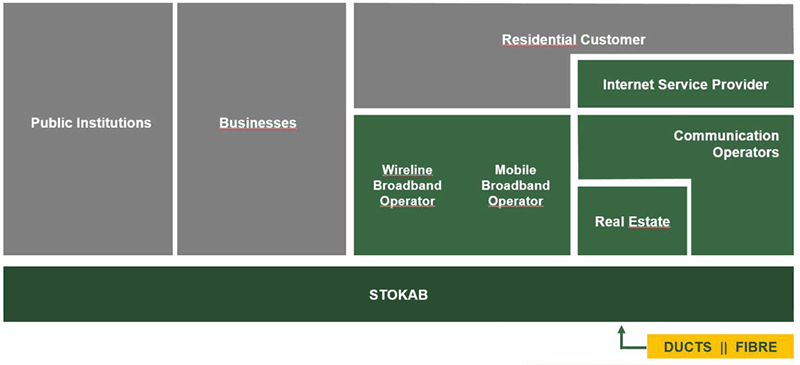 How the Stokab model works
By only leasing black fibre, we do not compete with our customers. The fibre is leased on equal terms to everyone, which stimulates competition in the market and thereby results in lower prices for broadband. Furthermore, the profits we generate are reinvested in the fibre network, which benefits our customers.

In Stockholm, it is easy to establish oneself in the telecom market. It also takes away the expense that individual stakeholders would otherwise incur by needing to dig and install cable in order to offer their services. The cost of the fibre network is shared by many. It is called asset sharing, which is part of a sharing economy where current and future users share the investment costs.

The model that we use also helps ensure diversity in the market, which is verified by the fact that there are more than 100 operators and service providers in Stokab's fibre network. In addition, Stokab has around 900 corporate customers who lease black fibre from us, including banks, insurance companies, retailers, property owners and public sector entities, such as hospitals, courthouses and municipalities.
With increased use of broadband, high speeds and the development of 5G, which requires short response times and high bandwidth, the mobile towers need to be connected with fibre, which thereby increases the need for an expansive fibre network. At Stokab, we are prepared to meet those needs and will continue expanding and densifying the fibre network.